SUPEREXTRA SINGLE BOLT CLAMP
| | | | | | | | | | | | |
| --- | --- | --- | --- | --- | --- | --- | --- | --- | --- | --- | --- |
| | 1-teilig Schlauchschellen | | Colliers de serrage | | 1-delig Klembanden | | ABRAZADERA DE MANGUERA | | Fascette Stringitubo | | Хомут силовой |
Superextra Single Bolt Clamp has a double band with thickness 2.0 mm making it an extra strong heavy duty clamp.
The Power clamp has a high strength 8.8 grade socket head bolt which allow for easy installation with an allen key.
The clamps solid trunnions complement the strength of the double band resulting in high break torque and excellent tensile strength.
The "PA-RI clamp" type single bolt clamp has a bridge welded onto the clamp which provides extra strength and optimal hose protection.
Main Applications:  Agriculture, drainage systems, irrigation, sludge suction. The W5 version- AISI 316 makes the clamp an ideal selection for marine and off shore applications.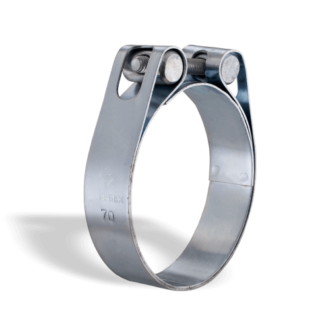 Superextra Single Bolt Clamp Sizes
Model
Dia Size
(mm)
Bandwidth
(mm)
Band Thickness
(mm)
Bolt Size(MxP)*
Length (mm)
Quantity/
Box
S-35
30-36
20
2.0
M6 x 45
100
S-40
35-41
20
2.0
M6 x 45
75
S-45
40-46
20
2.0
M6 x 45
75
S-50
45-51
20
2.0
M6 x 45
75
S-55
50-56
20
2.0
M6 x 45
75
S-60
55-61
20
2.0
M6 x 45
75
S-65
60-66
20
2.0
M6 x 45
50
S-70
65-71
20
2.0
M6 x 45
50
S-75
70-76
20
2.0
M6 x 45
50
S-80
75-81
20
2.0
M6 x 45
50
S-85
80-86
20
2.0
M6 x 45
50
S-90
85-91
20
2.0
M6 x 45
25
S-95
90-96
20
2.0
M6 x 45
25
S-100
95-101
20
2.0
M6 x 45
25
S-105
100-106
20
2.0
M6 x 45
25
S-110
105-111
20
2.0
M6 x 45
25
S-115
110-116
20
2.0
M6 x 45
25
S-120
115-121
20
2.0
M6 x 45
25
S-125
120-126
20
2.0
M6 x 45
30
S-130
125-131
20
2.0
M6 x 45
30
S-135
130-136
20
2.0
M6 x 45
30
S-140
135-141
20
2.0
M6 x 45
30
S-145
140-146
20
2.0
M6 x 45
25
S-150
145-151
20
2.0
M6 x 45
25
Custom Sizes Available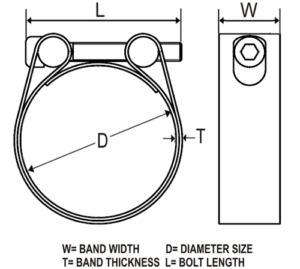 Materials:
Materials

Description

Corrosion resistance
in salt spray testing

W1

Mild Steel with Zinc Plated

Min 72 hours
W4

Stainless Steel 304

Min 240 hours
W5

Stainless Steel 316

Min 400 hours
Other products that you could be interested