| | | | | | | | | | | | |
| --- | --- | --- | --- | --- | --- | --- | --- | --- | --- | --- | --- |
| | Breitbandschellen | | BRS Collier d'échappement à bande | | BRS brede band | | Abrazadera de banda ancha | | Fascette a banda larga | | ХОМУТ ШИРОКОЙ ЛЕНТОЙ |
Bolt: Optional- Hexagonal Head Grade 8.8 or Socket Head Grade 8.8
Band: Available in 65 mm, 78 mm or 100 mm band.
Wide Band Clamp is used in conjunction with a rubber sleeve for connecting pipes with smooth ends.
The "BRS" type wide band clamps provide high transverse rigidity of the joint between pipes and avoid compression or damage to components being clamped.
The extra wide band of the clamp ensures clamping force is distributed over a wider area, while the bridge ensures good sleeve coverage.
Main applications: Exhaust air technology, machine & engine manufacturing, food & beverage industry, suction systems, white goods and drainage technology.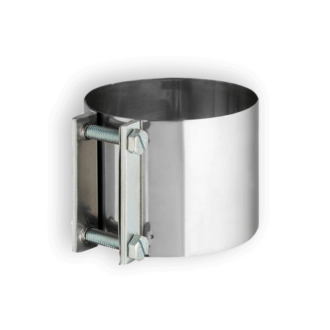 BRS WIDEBAND CLAMP SIZES
W 100 Series Sizes
W 78 Series Sizes
W 65 Series Sizes
44-49 W100
44-49 W78
44-49 W65
56-61 W100
56-61 W78
56-61 W65
62-67 W100
62-67 W78
62-67 W65
68-73 W100
68-73 W78
68-73 W65
74-79 W100
74-79 W78
74-79 W65
80-85 W100
80-85 W78
80-85 W65
86-91 W100
86-91 W78
86-91 W65
92-97 W100
92-97 W78
92-97 W65
98-103 W100
98-103 W78
98-103 W65
104-109 W100
104-109 W78
104-109 W65
110-115 W100
110-115 W78
110-115 W65
Custom Sizes Available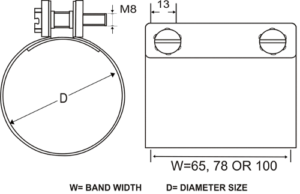 Materials:
Materials

Description

Corrosion resistance
in salt spray testing

W2

Band: Stainless steel 430
Hardware: Mild steel

Min 72 hours
Other products that you could be interested