| | | | | | | | | | | | |
| --- | --- | --- | --- | --- | --- | --- | --- | --- | --- | --- | --- |
| | Schlauchsicherung | | Câble de sécurité | | Veiligheidskabel | | Piolas de Seguridad | | Frusta controllare cavo di sicurezza | | страховочный тросик |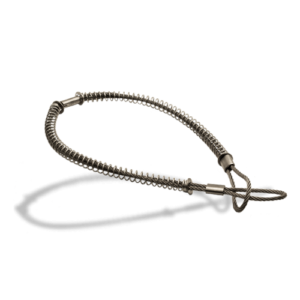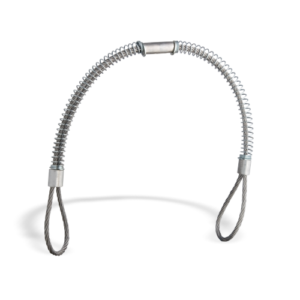 Whipcheck Hose To Hose
Safety Cable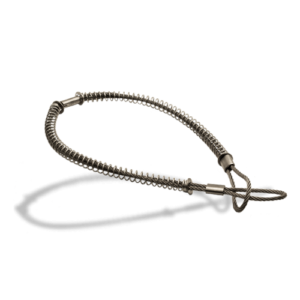 Whipcheck Hose To Hose
Stainless Steel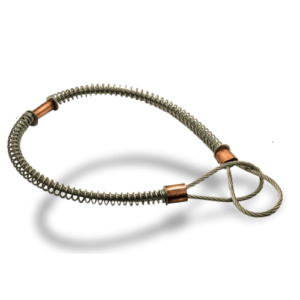 Whipcheck Hose To Hose
Copper Ferrules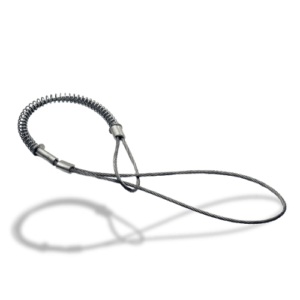 Whipcheck Hose To Tool
Safety Cable
A pressurized air hose in case of hose failure or accidental uncoupling could cause the hose assembly to whip violently due to the sudden release of energy. The lethal whipping hose lethal can create a potentially dangerous situation. In such a scenario Superex whipcheck safety cables ensure safety from injury and property damage.
Whipchecks are hose arrestors made of corrosion resistant, high strength – steel, aluminum, copper or stainless steel which on installation diverts strain from the coupling to the whip check.
Installation of whipcheck is easy and requires no tools- the spring loaded loops of the whipcheck are opened and slipped over each hose providing a firm grip on the hose and avoiding it from whipping in case of accidents. Whipchecks are commonly used on hose for air, water blast, drilling, steam, concrete, sandblast or other high pressure applications.
Superex whipchecks are available in:
Standard hose to hose style – Steel cable and aluminium ferrules. 

C style – Steel cable and copper ferrules for offshore and Coal mining applications. 

S style – Stainless steel cable and stainless steel ferrules for applications like petro- chemical industry requiring high corrosion resistance.

Standard hose to tool style – Steel cable and aluminium ferrules. 
Use of whipchecks has been made mandatory by Workers Compensation Boards, Bureau of Mines, OSHA and various other government bodies.
WHIPCHECK SAFETY CABLES SIZES
Model
Description
Material
Max. Pressure Rating (PSI)
Packing/Box
Whipcheck Hose To Hose Safety Cable
WH3
⅛" Wire for hoses ½" to 1¼"
Steel wire with Aluminium ferrules
200
400
WH5
3/16" Wire for hoses 1/2" to 2"
Steel wire with Aluminium ferrules
200
150
WH6
¼" Wire for hoses 1½" to 3"
Steel wire with Aluminium ferrules
200
100
WH10
⅜" Wire for hoses 4"
Steel wire with Aluminium ferrules
200
20
Anti Spark- Whipcheck Hose To Hose Copper Ferrules
WH3-C
⅛" Wire for hoses ½" to 1¼"
Steel wire with Copper ferrules
200
400
WH5-C
3/16" Wire for hoses 1/2" to 2"
Steel wire with Copper ferrules
200
150
WH6-C
¼" Wire for hoses 1½" to 3"
Steel wire with Copper ferrules
200
100
Corrosion Free- Whipcheck Hose To Hose- Stainless Steel
WH3-S
⅛" Wire for hoses ½" to 1¼"
Complete Stainless Steel
200
400
WH5-S
3/16" Wire for hoses 1/2" to 2"
Complete Stainless Steel
200
150
WH6-S
¼" Wire for hoses 1½" to 3"
Complete Stainless Steel
200
100
Whipcheck Hose To Tool Safety Cable
WT3
⅛" Wire for hoses ½" to 1¼"
Steel wire with Aluminium ferrules
200
400
WT5
3/16" Wire for hoses 1/2" to 2"
Steel wire with Aluminium ferrules
200
150
WT6
¼" Wire for hoses 1½" to 3"
Steel wire with Aluminium ferrules
200
100
Custom Sizes Available
Other products that you could be interested