JETTER TRAY FIXED WITH PLATE
Jetter trays are the perfect product for washing milking machines. Teat cups fit over head of each cup holder while short tube provides sufficient pressure ensuring a good seal. Cleaning is very efficient as cluster is inverted and hence the claw bowl is completely full prior to wash water entering into milkline thereby creating maximum contact between the washing solution and cluster. The design also ensures equal flow of water passes through each line. 
The fixed plate base can be easily mounted with the help of holes on the back plate. Direction of washer inlet can be made straight, left or right.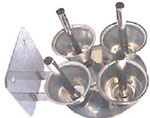 JETTER TRAY FIXED WITH PLATE
Model
DESCRIPTION
CUP DEPTH
WS-001
Jetter Tray Fixed with Plate
45 mm
WS-003
Jetter Tray Fixed with Plate
51 mm
Custom Sizes Available